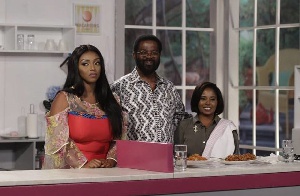 Ghanaian politician and former Mayor of Accra, Alfred Oko Vanderpuije, is not only a respectable figure in the area of making laws but also a man of reputation in the kitchen.
The Member of Parliament (MP) for Ablekuma South, who lost his wife in 2012, last week proved that cooking is no child's play and also not exclusive to women, as he beat his daughter to win a jollof cooking contest on national TV.

He won the contest at a time there is an unending argument over which West African country prepares the best jollof.

There has always been a debate as to which West African country makes the best jollof, with Ghana, Nigeria, Senegal and Gambia being the main contenders.

Event organisers, on different occasions, staged different events to somehow settle the argument, but there hasn't been a clear winner. No particular country has dominated the winning positions at those events.

But Mr Oko Vanderpuije appears to be dominating among his pals, as he becomes the first Ghanaian MP to showcase his jollof cooking prowess on TV.
He was on the cooking show, Dinning With, hosted by celebrated actress Yvonne Okoro on GHone TV, with his daughter Mildred Vanderpuije to display their expertise in preparing the popular cuisine.

He prepared his jollof with vegetables and other ingredients, making his jollof tastier than that of the daughter, who was very sure of winning the cooking contest from the onset.

But at the end of the show, Mr Oko Vanderpuije was adjudged the winner by two tasters who joined the show after the cooking.

They tasted two plates of jollof without knowing who prepared what. Their judgment was that Mr Oko Vanderpuije's jollof tasted better than that of the daughter, and eventually he became the winner.

"I told you guys I'm a good cook," he said on the show. But the daughter wouldn't accept that she was defeated by the father, as she insisted her food tasted better.