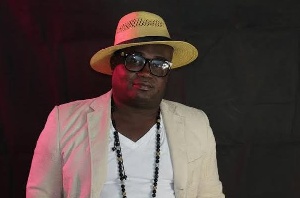 Secular artiste and Gospel musician, Nana Quame, has alleged that renowned Programmes Manager at Hitz fm, Mark Okraku Mantey, 'robbed' him of huge sums of money when he (Nana) signed up to Slip music label some years back.
He made this allegation on TV Africa's morning show, Maakye.

"When I was working at Slip music, I took Mark Okraku to court… I signed a contract with him he told me that if he sells and earns a certain amount of money, he will give me this and that… up to now, it (the money) never came… I'd say that he (Mark) contributed to the fame of my song, Odo Shock, but in terms of contract, my CD rights, I went with him for the money… and when after we got the money, he told me that I am not capable of handling pounds… so he didn't give it to me", he disclosed.
He also added that he recently filed a lawsuit against Top fm for a similar case, in which an amount of GHC90,000 was involved. When asked if he will follow up on the case, he said that 'there are some things that one has to let go'.