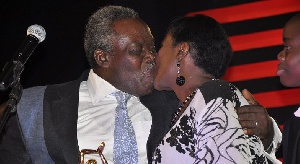 Veteran actress, Joke Silvia is happily married to Olu Jacobs. The two are one of the most enviable couples in the Nigerian entertainment industry. Working together as couple can. Be challenging but not for Joke.
" It feels great and now our oldest son has also joined the company. Every one of us has an idea of how to go about the business; we have a lot of arguments and that way, we are able to go forward. Each one of us sees different loopholes and this sort of complements our strengths and weaknesses."
There comes a time when she is faced with challenges. How does she cope? "I think a lot of it is passion; I am very passionate about my career. That is why I always strive for innovative ways of getting our message or product to the public. I can't discountenance the grace of God in my life and career. I also know that I have been highly favoured."