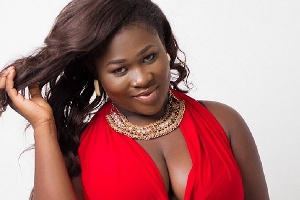 Francisca Duncan-Williams better known in entertainment circles as Sista Afia has rubbished complaints by other musicians that the industry is financially unrewarding.
Over the years, there have been several complaints from musicians about how financially unrewarding the industry and according to Sista Afia, it is only lazy artists who complain that the industry is not rewarding.

"I mean, there is money in the industry and it will only take hard work for you get it so if you don't work hard, you should not expect anything, it is that simple," she told Showbiz in an interview on Monday.

In her assertion, hard work has to be put in every work and that will definitely pay off but to relax and wait for stakeholders to put in measures will definitely not be rewarding for you.

When asked how hard she works and asked whether the money that came in had been commensurate, she said, "I work really hard, I do not joke with my studio sessions."
"My management also puts in efforts to make sure that we have things going. I have lots of gigs I play in Ghana and outside as well."

"Again, I have other businesses I run which are as a result of my being in showbiz or being an artist, so if you work hard, you will reap results. Success is not a one-day event and it does not come just like that, it takes lots of hard work to get it," she said in an interview with Graphic Showbiz.

The songs she has to her credit include Kro Kro No, Borkor, Jeje, Are You Ready, Yi Wani and Due.