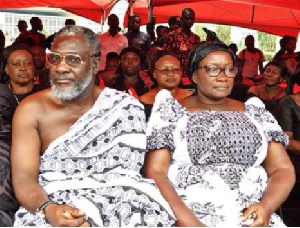 Since the death of Ebony Reigns, several photos of her parents together have popped up and although they are divorced, many Ghanaians have wished that the two would let their daughter's death re-unite them again.
It's understandable to feel that way as they just look good together and in several pictures that show them sitting together, you could tell, there's some spark still in there.

Ebony's dad in an exclusive with Kofi TV when asked if he would reunite with his ex-wife as several Ghanaians wish for that will happen, said that only time will tell.

"We've separated and no longer married, but I don't know…….. Only time will tell"–The response Mr. Kwarteng gave when asked if he would get married to his wife again.

Late Ebony's mother Beatrice Oppong, also used the opportunity to debunk the news that she said she would marry the man again.

She was misquoted by the media as in that interview, it was the host who was pleading with her to marry Mr. Kwarteng again and she was only been 'respectful' and replied that, she's heard him.
Ebony Reigns, a popular Dancehall musician, died in a gory accident on the Sunyani-Kumasi Highway on February 8 while returning from Sunyani where she had, in the company of three others, visited her mother.

Since her tragic death, there have been many mystic interpretations with many prophets claiming to have predicted such a fate for her.

Ebony's manager, Ricky Nana Agyemang, popularly known as Bullet, is on record to have stated that Ebony told him that a prophetess had predicted that she would become famous but will die young..

But reacting to the many death prophecies haunting Ebony before her death, Nana Kwarteng expressed shock saying his daughter failed to tell him.

His shock, he explained, was because there was a special bond between his daughter and himself which saw them sharing a lot of stuff together but Ebony failed to confide in him the death prophecies.