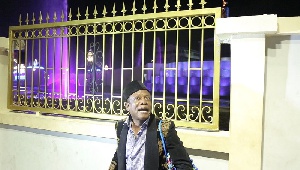 Several Ghanaians are pissed off after seeing Nollywood star Nkem Owoh popularly called Osuofia involve himself in Ghana's politics.
These individuals have questioned the need to employ the services of a Nigerian to shoot a campaign commercial for the ruling NDC government when several Ghanaian celebrities have endorsed the president's candidature ahead of the 2016 election.

According to the aggrieved Ghanaians, Nigerians have ruled the Ghanaian showbiz industry for long so they cannot fathom why government would pay a Nigerian for such a job after several years of telling Ghanaians to purchase local goods.




The veteran Nigerian actor was spotted at the commissioning of the Kwame Nkrumah Interchange days ago. It is not clear who invited him at the inauguration of the 74.88 million euro project.

Osuofia in a new NDC campaign video is seen enjoying the infrastructures at the Kotoka International Airport. New pictures, which have surfaced online, also portray him touring the new Kwame Nkrumah Interchange. The said pictures are alleged to be from a new campaign video the actor has shot for the ruling NDC government.

The "Osuofia in London" actor during his visit to Ghana days ago was also seen sitting with the president.