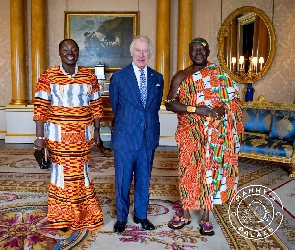 An iconic moment was captured in a photo when Ghana's Otumfuo Osei Tutu II – King of the Ashanti Kingdom met King Charles III, King of England, ahead of his coronation.
Donning his colourful regalia, Otumfuo was captured in a handshake with King Charles who was in a beautiful blue suit with a blue tie to match.

Otumfuo Osei Tutu II was welcomed to Buckingham Palace by King Charles III together with his wife Lady Julia; his beautiful wife.

Lady Julia on her part wore a beautifully designed 'Kaba' and 'Slit' made from Kente cloth which complimented her husband's attire.

The three were also captured in another photo with King Charles 'sandwiched' by the two Ghanaian royals.

The post was shared by Manhyia Palace' Twitter handle.

This follows the official invitation that was sent to Otumfuo, as was confirmed through a statement issued by the Chief of Staff of the Manhyia Palace, John Badu, that said that the Asantehene had been invited for the coronation ceremony, which is slated for May 6, 2023, with his wife, Lady Julia.
Otumfuo Osei Tutu and Lady Julia will also attend the King's official reception on May 5, 2023.

The coronation of King Charles III would also be done with that of Queen Consort Camilla.

Already, about 2,000 people have been confirmed to attend the coronation of King Charles and Queen Camilla.

See the post below:


Today May 4, 2023, Otumfuo Asantehene and Lady Julia received by King Charles in a private audience at Buckingham Palace. pic.twitter.com/LYFTpFGHyw

— Manhyia Palace (@ManhyiaPalace) May 4, 2023
Share your news stories and ideas with GhanaWeb




To advertise with GhanaWeb




WA