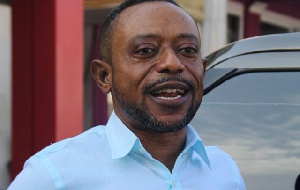 Reverend Owusu Bempah, the founder and leader of Glorious Word Ministry has finally reacted to wild rumours that he has divorced his 3rd wife just 5 months after marriage.
The man of God has denied the rumours and has accused another pastor of starting it.

Rumours that Owusu Bempah has divorced his 3rd wife started a few days ago and got many people wondering what could have really caused it.

But reacting to this, Owusu Bempah explained that, he has not divorced the wife, does not even have a single problem with her and they have neither fought nor quarrel since they married. He insisted they are happily married.

According to Rev. Owusu Bempah, Prophet Emmanuel Badu Kobi is the mastermind of the defamatory rumours going viral.

He explained that Baba Tunde a blogger who works with Badu Kobi started the rumour on the instruction of Badu Kobi. They connived to do that just to court public displeasure for him.
Speaking on Sankofa Radio, Owusu Bempah revealed that Baba Tunde has called him on phone personally to apologize for being the instrument used by Badu Kobi to destroy him.

The ruling NPP spiritual father denied ever divorcing the wife and called on people who support and love him to disregard the false news.

For months now, Reverend Owusu Bempah and Prophet Badu Kobi have been fighting. They have both accused each of doing things not worthy of a man of God including the use of juju and killing for rituals.

Interestingly, Reverend Owusu Bempah supports NPP whiles Prophet Emmanuel Badu Kobi supports the opposition NDC.