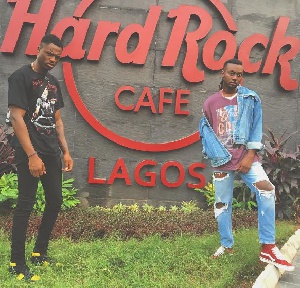 Whoop, the 2 Lords are back together! Yes, it's been months of fans of both Pappy Kojo and Joey B asking why the two acts no longer rolled together.
Since both don't want to talk as to why they no longer walked hand-in-hand with each other, rumours then started circulating that both acts were fighting of a sort.

According to some of the hearsays, both fought over a lady, others claimed both fought over money, and later Nana Ama hitmaker, Pappy Kojo came out and was like no, they weren't fighting and that both were no longer seen together because they were working on their separate album and more.

Well, the Christmas festivities have brought these two great acts together once again.

According to sources, Mr. Eazi was the one who quashed whatever was going on between them, so it's official, Pappy Kojo and Joey B are now back together.
The 2 are even in Nigeria preparing for a gig. That's what real men do, they fight and come back stronger together.

Indeed together we stand, divided we fall!! Expect Pappy Kojo and Joey B to rock most of the December shows together!

On Gram, Pappy Kojo posted announcing their official comeback.