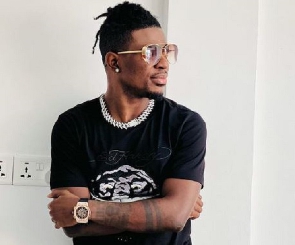 Frank Naro has said that he gets tagged as arrogant even though he has done no wrong and is a playful person who desires to coexist peacefully with everyone.
In an interview with blogger, Zionfelix, the actor-turned-musician, said people despise him merely for the way he looks, including his body piercings and tattoos.

"In Ghana, when people know how you started, they expect you to stay that way and never progress in life.

"They even tag me as arrogant, yet I haven't insulted anyone, I like to play and have never fought with anyone, but you call me arrogant because you've seen me dress this way and have seen my piercings. It's just the body, and this body is sand. You don't know my heart," he said.

He added before becoming an actor, he didn't have any tattoos, piercings, or dreadlocks, but as a musician, he had to follow a certain standard because of his brand.

Additionally, Frank advised detractors to speak with him directly if they believe he might be prideful before passing judgment.

"Before you knew me, I was in the film industry as an actor, and I never had any of the body parts you see on me now. It's all about branding, and I have to brand myself well.
"If you see people and you think you don't like something about them, get close, and don't say they are arrogant. I haven't insulted anyone," he added.

Meanwhile, On January 10, 2023, controversial Kumawood actor, Big Akwes launched a vicious attack on Frank Naro, claiming that the actor had an agenda to use some Kumawood stars as sacrifices at an end-of-year party he organized.

While holding eggs and schnaps, Big Akwes warned Frank's family to be prepared to bury their relative if he ever denied his allegations.

Frank Naro in rebuttal dared his fellow actor to curse him since he has finally come forward to deny that he planned to use him for money rituals.



ADA/BB