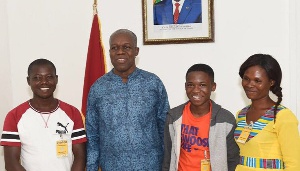 Until June 2014, Mr. and Mrs. Attah lived a peaceful and quiet life as the parents of then 14-year-old Abraham Attah until he spotted by casting agents on a football field who were searching for the character of 'Agu' for the movie 'Beasts of No Nation'.
Between that time until shooting wrapped up, he was chauffeured from the house to the movie scene and then back to the house.

Fast forward to September 2015, when the movie premiered at the Venice Film Festival to great reviews by the audience and movie critics. Young Attah won his first major award for his first movie role Marcello Mastroianni Award for Best Young Actor at the festival.

Their child gained international prominence leading to a change in their life. For one, they don't have to worry about paying the fees of Attah, at least till he completes secondary school. Ted Sarandos, Netflix's Chief Content Officer will foot all of the bills.
The couple are also enjoying special privileges. They visited the seat of the Presidency, The Flagstaff House to see the Vice President last week Friday.

We are not saying it's a rags-to-riches or a Cinderella story – no far from that but you'd admit their lives have definitely changed for the better.