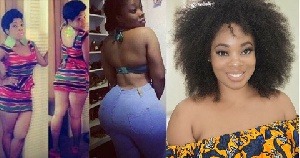 Well, the internet never forgets so anytime you make a post or comment on an issue online, do well to ensure that you will like the post in the coming years.
There were reports that suggests that Moesha Bodoung went for surgery in order to get her current look.

According to the report, she travels outside the country for reviews and work to keep her shape together.
Well, photos have surfaced online to prove that truly, she was a flat as* before she miraculously developed those "hips and back side glory".