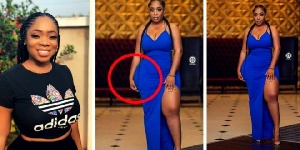 For many, the character Moesha Boduong is a human fraud; who conveniently takes off her clothing on social media so to entice low-self esteemed women to buy her waist trainers—when in fact, her figure was not achieved through the usage of what she is selling.
But from a reliable source, Moesha Boduong went under the knife to get her butt enhanced. According to a source, the socialite grew this new strange butt overnight.

"She barely had a "butt" back in SHS so we seriously don't know how it got this big all of a sudden" the source revealed.

Enough, a photo of Moesha Boduong with her buttocks that seem to have shifted to her hips is fast going viral on social media and her critics are having a good laugh.

In the photo which was taken at the Ghana Football Awards, Moesha seemed to be supporting her buttocks which has been shifted to her hips with her hand to stop it from falling. She posted the photo herself on her own Instagram page with the caption:
"Don't allow anyone to put in a position of self-pity and depression in life. Those who have no joy will always find means to remove someone's happiness from peoples lives. About last light ..Ghana football awards 2018."

Whiles others are ridiculing her, others took the opportunity to educate people who didn't know what it means.

According to one user, some of the implants can actually be pushed to either side of the ass at the comfort of the person and can be pushed back to its original place whenever the user wants.