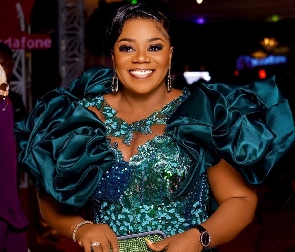 Ghanaian gospel artiste, Piesie Esther, has opened up about how her friend not only ruined her chances of marrying a suitor from abroad but also became a financial burden on her.
In a recent report by adomonline.com, Piesie Esther revealed that she had been dating two men and was not intimate with either of them because she was still studying them and confided in her friend about everything she did with them.

She said, "I told her I was considering the partner in Ghana because he was caring and respectful, unlike the one overseas. All of a sudden, the one abroad began showing a negative attitude, and I told my friend about it too."

Unbeknownst to Piesie Esther, her friend was secretly communicating with her foreign lover and recording their conversations, which she shared with him, making him hostile to her.

"Unknown to me, she had the number of my foreign lover, and they were having discussions behind me. All the times I spoke about him, my friend either recorded me or secretly called my lover to listen to some of my opinions of him.

"He heard me say I was considering the one in Ghana over him, and since then, he started being rude to me," she disclosed.

In addition to ruining her relationships, Piesie Esther indicated that her friend also became a financial burden on her, claiming to have an ailing mother that she needed to take care of, after which she informed her that her mother had passed away.
"My friend became my financial burden. Every penny I get, I have to set some aside for her ailing mother. I took care of her mother until she told me her mom had passed away," she recounted.

In the days leading up to her wedding, Piesie Esther mentioned that she received donations and pleaded with her friend to withdraw the money for her, however, her friend vanished along with her phone.

According to Piesie Esther, she followed her friend to her house and met a woman who claimed to be her biological mother.

"During my wedding, I had donations, and I pleaded with my friend to withdraw the cash for me. She vanished with both my phone and money.

"I trailed her to her house and met a woman who claimed to be her biological mother. The woman denied ever being in critical condition or dead, as my friend had told me," she said.




Watch the latest episode of Nkommo Wo Ho below:





ADA/BB