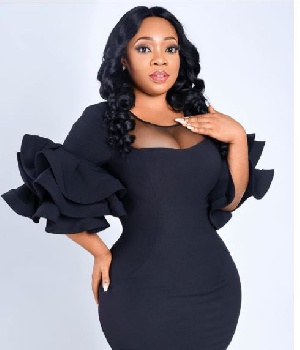 Actress and photo model, Moesha Boduong, has apologized to Ghanaians over recent comments on CNN.
In an interview on CNN's Amanpour show, the socialite narrated that she has been having sex with a married man primarily to pay for her apartment and other stuff.

She was featured on an episode on the CNN show called 'Sex & Love Around the World' on the topic "When being a mistress is a financial decision".

However, there were chorus of condemnation for her unfortunate claims on the international news platform[CNN] barely 24hrs after the release of that production.

Bodoung, after a lot of reflections posted on her Instagram page and apologized to all for making such statement which has denigrated Ghanaian women.

READ HER APOLOGY BELOW
Moesha apologizes to Ghanaians

Dear gh this is Moesha. I have been humbled by all that is going on and I have also learnt a lot in the last few days since the CNN video came out. I have had a lot of time to think and reflect and I APOLOGIZE TO ALL, ESPECIALLY MY AFRICAN SISTERS. I pray u all find it in your hearts to forgive me. It was definitely not my intention to offend any of you. I respect all the hard-working women of our beloved country and accept that some of my utterances were not a reflection of what happens in most homes. GOD works in mysterious ways and everything happens because he says so???????? Thanks for the love, pieces of advice and criticisms. GOD bless us all! The full version of the interview drops this weekend and I hope you can appreciate what I said in its entirety. Thank you. God bless you all!