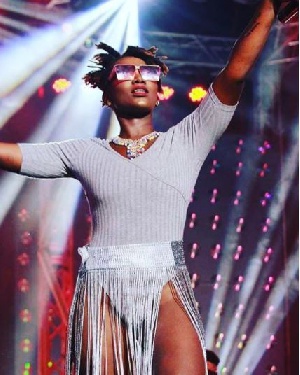 The President of the Musicians Union of Ghana (MUSIGA), Bice Osei Kuffour has condemned Dancehall artiste for her choice of dresses for events.
According to the 'Konkontiba' hitmaker, "That [Ebony's dressing] is very bad. It is very bad. Again, in our vein as a union we will try to let the public know that they are in an acting role".

According to him, Ghanaian Culture frowns on the act of nudity and semi nudity and therefore the songstress should always have that in mind when selecting her dresses.

He further indicated that "Lady Gaga could wear that same costume and nobody would cry or scream foul about it because the moral values of the country they are in different from that of the country we are in now. And so we are always advising our musicians to be quite decorous in their way of dressing."
Meanwhile, the songstress has indicated that she will not stop being herself just to please Ghanaians but will continue to do what she feels is right for her.

She in an interview with Accra-based Hitz FM indicated that her manager even prevents her for exposing too much flesh but left for her, she would have exposed a lot.