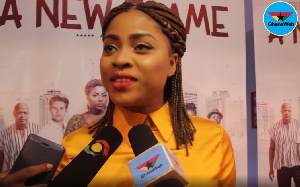 Wed, 19 Feb 2020 Source: Erica Arthur, Contributor
Award-winning Ghanaian songstress Adina Thembi, is teaming up with the NGO Ahaban GLF to raise funds for its mobile shelter program.
In the last 5 years, Ahaban GLF has held 10 shelter programs across Accra; providing health screening, treatment, and health education, as well as clothes and food to the homeless in different communities across Accra.

Adina is adding her voice and talent in the call for support for this initiative. Together, our aim is to expand the mobile shelter program and achieve our 2021 goal of having permanent shelters across the city for the homeless. A place where they can find hope, restoration, and health care.
The concert, scheduled for Saturday 28th March 2020 will also feature the Characters Band, Highlife band Kwan Pa, Kidi & Kuami Eugene amongst others.

Adina Live! will take place at Alliance Francaise at 6pm.
Source: Erica Arthur, Contributor