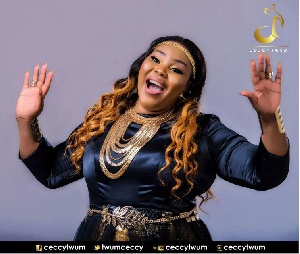 Celebrated gospel superstar, Ceccy Twum, has spoken against the perception that Christians should stay away from flamboyant lifestyles even when they can afford it through genuine means.
She has opined that living a flamboyant lifestyle should be seen as an expression of blessings and not a sign of pride or arrogance because poverty is not a synonym for holiness.

Ceccy is known for her enviable appetite for flashy fashion and style. It has earned her both admiration and criticism, but she says she is least perturbed about it as far as the songs she puts out are having great content that can minister to the needs of her target audience.

"I am sorry but there is nothing I can do about the fact that I have a good taste for fashion. It is a blessing and I pray everyone develops a good fashion taste. It is sad if people see it to be wrong but the truth is that people cannot always be right about others. Even my name, some people get it wrong. Some write my name as Ceecey Twum instead of Ceccy Twum but what can I do about it? Nothing. So also would I not stop dressing good because someone has a problem with it," Ceccy stated.

She also mentioned that people do not have high regard for gospel artistes because of the way they sometimes package themselves.

Ceccy has also admonished all gospel artistes to release songs that have great content and one that can impact lives. She said this on the TIG Show with Frankies on Hitz FM.
According to her, some gospel artistes concentrate only on their voices instead of working on Spirit-led songs. She believes some of them just fancy going to the studio to work on songs without considering the impact it could have on people.

She stated that some of the gospel artistes come out with any song because they feel they are doing it for God. But, she rather believes it should be done well since it is to glorify God.

Ceccy further advised that whatever they bring out should be clean and on point so as to glorify God.

She also added that gospel artistes should always work on good music videos to complement their songs instead of always using flowers and other irrelevant things in their videos.

Contrary to the unwillingness of some gospel artistes to go to night clubs and pubs to minister, she has made it clear that she will go there anytime the opportunity presents itself to win souls for God.
According to her, Jesus Christ came for the sinner and not the righteous.

Ceccy is now under the management of IREVA CONSULTS, an artiste management and events firm headed by Frank Kwabena Owusu.

Ceccy Twum's annual 'Gold Worship' concert comes off this December. She is ready with a single which would be premiered on the day of the concert.