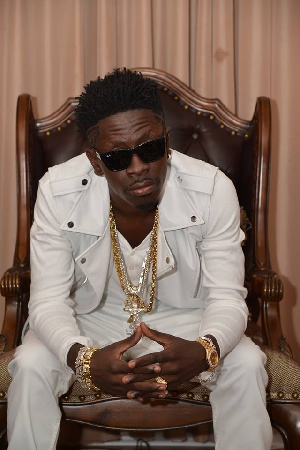 Ghanaian reggae and dancehall artiste, Shatta Wale, has threatened to slap old highlife artiste Aka Blay for saying he (Shatta Wale) is a bad influence on Ghanaian youth.
Shatta Wale posted a video of the threat on Facebook on Wednesday, 17 April, 2019.

Aka Blay had told the Graphic Showbiz on Saturday, 13 April 2019 that the dancehall artiste was impacting the youth negatively.

"With his large fan base, I don't expect Shatta Wale to use certain words and engage in indecent acts. I know he has the largest fan base in Ghana at the moment but what impact is he making on them?
"The youth are engaged in all sorts of bad activities because they see him as their role model and blindly copy what he does."

Shatta Wale has been angered by Aka Blay's comments, prompting the following response: "Some artiste [don't] want to work hard and all they need is hype from my sweat, so ibe slap dem go chop take add the hype... Aka Blay pray I don't meet you, it's just slap I will give you ******************** !!!!"