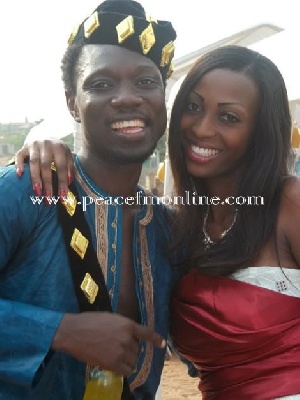 More and more Ghanaian celebrities are trying very hard to keep their private life away from the eyes of the media, their fans who made them who they are and the general public for that matter.
The latest celebrity to join the league of secret celebrity marriage, is a member of the Nima-based hiplife group VIP (Vision In Progress), known in showbiz circles as Prodigal (Real name: Joseph Nana Ofori). The most quiet among the trio and who has the deepest voice in the group.

According to reliable information exclusively available to Peacefmonline.com, Prodigal got engaged secretly to his longtime girlfriend whose name was only mentioned as Juliet Tsotsoo on New Year's day January 1, 2011. The extremely low profile engagement took place at the lady's family residence somewhere inside Mallam, a suburb of Accra.

Prodigal was dressed in a sleek blue African wear with embroidery, a black traditional hat decorated with gold, a black sash across his chest to match and black Ahenema (Traditional slippers) - whiles his wife was spotted in a white straight dress with wine satin design and shoes to match.

After presenting several items including bags of African print textiles, ladies items and an undisclosed amount of money to pay Juliet's bride price, Prodigal placed a ring on her finger to stamp his authority as the man she is going to spend the rest of her life with.

Guests who graced the special ceremony included few family members of Prodigal and Juliet, Juliet's former school mates and some selected friends from both sides.
The Other two members of VIP, Abdul Hamidu Ibrahim (Lazzy) and Emmanuel Ababio (Promzy) were present to support their brother on his big day, as well as their personal Disc jockey DJ Ice, Stone of Paradise Entertainment among others.

Tall and Beautiful, Juliet Tsotsoo attended Adonteng Senior High School in the Eastern region, after which she enrolled at the FC Beauty Academy to be trained as a professional beautician and now plans to establish her own beauty company.

Peacefmonline.com investigations revealed that Juliet flew out of the country to the United States of America on Tuesday January 25 2011. The harder they try to hide from us - the deeper we (peacefmonline) will dig to uncover what they are trying to conceal.

We wish them all the best!!!