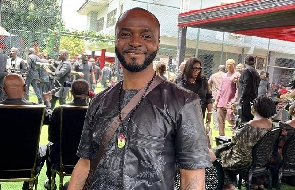 Music producer, Red Eye of 2Toff fame looked refreshed as he posed and smiled to the cameras during the one-week observation of the passing of Major Alberta Oquaye (Rtd) on March 16, 2023.
The wife of former Speaker of Parliament, Prof Michael Aaron Oquaye, died in the early hours of Saturday, March 5, 2023. She was a retired Nursing Officer at the 37 Military Hospital in Accra.

At the one-week commemoration which was held at Prof Michael Aaron Oquaye's residence, Accra, many dignitaries showed up to commiserate with the family of the bereaved.

Red Eye was in the company of Hammer of The Last Two Music Group who is the nephew of Professor Mike Oquaye. In photographs that were shared on Hammer's social media pages, Red Eye who recently underwent rehabilitation from drug use looked hale and hearty.

In August 2022, Hammer took Red Eye to the health facility following reports that the young producer had ended up on the streets due to his drug use. On January 18, 2023, Hammer through his social media pages updated the showbiz fraternity on Red Eye's rehabilitation and status.

His post which came with a video that captured Red Eye read: "4 months ago we raised a call to action to save our colleague producer Red Eye who was trapped in a very dark place. Today we're proud to say he's been treated and fully discharged from The Chosen Rehab Center by God's grace."

Since then, Red Eye has on a number of occasions been spotted with Hammer who seems to have extended his rehabilitation beyond the facility by keeping very close company to his friend.
Earlier, the two visited Samini at his residence to officially invite the Reggae/Dancehall musician to Red Eye's upcoming album. Videos from that encounter captured Red Eye displaying his creative dexterity as he effortlessly played live drums in the home studio.

Prior to this, Hammer had served indication of the young producer's upcoming multi-genre all-star album.


Celebrating the life of Major Alberta Oquaye(Rtd) with RedEye.

R.I.P Auntie Alberta. pic.twitter.com/BsoRVo6Y2i

— Da'Hammer (@Dahammergh) March 16, 2023
BB