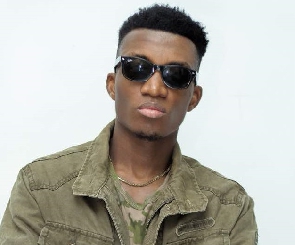 Highlife musician, Kofi Kinaata, has shared his view on some artistes who just focus on the money and not the managerial skills of their promoter or manager.
In an interview with Dr. Cann on Happy FM's Showbiz Xtra, the Susuka hitmaker said:

"Managing an artiste with money shouldn't be the uttermost priority but the skills, vision and target of the manager or promoter should be considered most. I believe in skills and vision of a manager not the money they are bringing on board. Many use money as a criteria but it didn't work out well".

He continued that not everything is based on money; a little bit attached to the good visions of the manager will go a long way.
''As an artiste we have to be bothered about our brand and not the money of a promoter. If you have a good promoter with excellent skills that would be able to sell your brand, automatically the money comes but if you concentrate on the money and forget the brand and chose promoters because of the money, the brand dies within a short period."

"We live to eat not eat to live. Let's focus on building and improving the music brand and naturally the money will come" he added