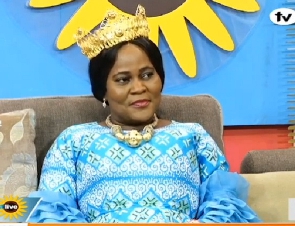 After the famous Omanye Royal wedding was held in August to celebrate the marriage between Prince Alvin and Shantel, a lot of Ghanaians have been left with many questions.
One of these frequently asked questions is if the Omanye Royal Kingdom really exists.

To answer this and many other questions about the royal family, such as where they are from, and how they came to be, Queen Vickyextar Beatrice Naa Manye, in an extensive interview on TV Africa's Breakfast Live shares some insight.

"The Omanye Royal Kingdom is a multiracial, multinational and multicultural kingdom. It is really about bridging the gap in the polarized community."

As someone born into two different royal families, Queen Vikcyextar believes she can use her royal background for the greater good by bringing people of different sects together.
See full the interview below:



ASS/DAG