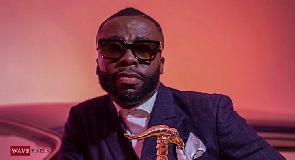 Renowned radio presenter and disc jockey, Andy Dosty has made a passionate appeal to actor, Kwadwo Nkansah Lilwin, to produce movies devoid of insults and profane language.
For some time now, movies produced in local language, particularly Twi, have been hit with a barrage of criticisms for the insulting language used.

Some critics have argued that it would be prudent for measures to be put in place to sanitize the system as failure to do so would have a negative impact on the society.

Adding his voice to the suggestions, Andy Dosty, host of Hitz FM's Daybreak Hitz, pleaded with Lilwin, one of the actors noted for using abusive words in movies, to refrain from the act.

"I want to make a humble appeal. I want to beg you, since you're shooting your own TV production, can we have a production devoid of insults and too much sexuality?" he said to the actor who had appeared on his show for an interview.
"This series is indeed devoid of those. There are some scenes characters insulted themselves but it's in context. It can't be totally devoid of insults. Once there is a quarrel scene, there will surely be exchanges," Lilwin replied.

Meanwhile, veteran actor Akwesi Boadi, popularly known as Akrobeto, has argued that movies in the local language are not filled with insults as many have posited.

According to him, 'Kumawood movies' as they are mostly called, are a true reflection of the Ghanaian society.

In his interview on Joy FM in 2017, he mentioned that even a child, who does not watch movies, learns to utter insults first when he or she learns to talk.