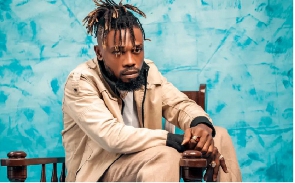 Sound engineer, Fox Beat has opined that our artistes relying on beats from Nigeria and South Africa doesn't make Ghanaian producers whack
Talking to Amansan Krakye on Property FM, the producer said outsourcing beats doesn't mean Ghanaian artistes don't support their own.

He reacted "That's not the case but every music genre has got its source or country of origin so most artistes want producers from the originators like Amapiano comes from South Africa.

"When you get producers from the originators of the music genre it helps the artistes to also get the right beat for their songs to help in the promotion of the song.
"Ghanaian artistes outsourcing beats from producers in Nigeria or South Africa doesn't mean that we the producers here in Ghana are wack or our works are inferior," he said observed by MyNewsGh.com

"When an artiste in Ghana wants Highlife beats there's no way they will go out there because we here are the originators of the music genre so that's how the thing goes," he answered.