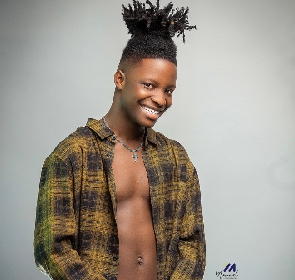 Ghanaian music producer, Edward Nana Poku Osei, popularly known as Hammer, has heaped praise on budding musician Lasmid for what he referred to as his exceptional talent and unique artistry.
In a social media post, Hammer commended Lasmid for his distinctive nature and urged him to continue breaking barriers and remaining true to his one-of-a-kind style.

According to Hammer, Lasmid is a rare gem in the music industry, placing him on a select list of true and exceptional artists who have managed to carve out their own distinct paths.

He urged the musician to mend any broken relationships and embrace positivity, believing that doing so would break any negative cycles and propel Lasmid's career.

"At this point it's safe to add @LASMIDOFFICIAL1 to the limited list of true unique artists who sound like nothing we've heard before them. The first and last of their kind. The kind of artist others try to emulate.
"This caliber is what's known as your favorite artist's favorite artists. To earn your way into this list requires that u dare to be different while remaining consistent with a style that has never been heard before. You can't fake your way into that breed.

"Well done ma guy… If u keep the creativity at this pace it's Drake who'll be asking for a collaboration soon.

"Try to repair all bad blood to break all curses and move full steam ahead. The world is yours," his post read.


At this point it's safe to add @LASMIDOFFICIAL1 to the limited list of true unique artists who sound like nothing we've heard before them. The first and last of their kind. The kind of artist others try to emulate.

This caliber is what's known as your favorite artist's favorite… pic.twitter.com/3M6g1XNDvk

— Da'Hammer (@Dahammergh) August 1, 2023
AM/SARA
You can also watch the latest episode of Everyday People on GhanaWeb TV below:


Watch the latest episode of The Lowdown on GhanaWeb TV below:




Share your news stories and ideas with GhanaWeb




To advertise with GhanaWeb