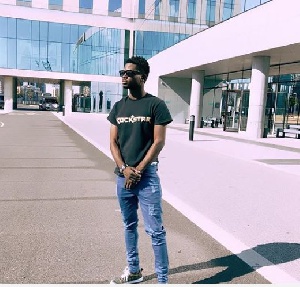 YEN.com.gh has sighted a post on social media indicating that another 'la borrow' scandal has hit Kuami Eugene.
The highlife artiste is currently in London in the United Kingdom, where he shut down electrifying performances to the admiration of massive crowds.

The 'Wish me well' singer is on a tour and has reportedly been to Germany, Belgium, and other places to perform.

Eugene shared one of the videos of his performance in London on his Instagram page, only for the 'la borrow' to be revealed in the comment session.

This comment was made by Africa's pride, Davido, asking Kuami Eugene to return his towel to him. Davido wrote: davidoofficial: "Return my towel young Man lmao ." Davido's jovial comment is no doubt a jab that Kuami Eugene had borrowed his towel for a performance because he didn't have one.

However, after the performance, he failed to return the 'Fall' hitmaker's towel to him, forcing Davido to make such a 'public' announcement.

YEN.com.gh scouted for Kuami Eugene's response to Davido's claim, but he has still not responded as at the time this report was being filed on Monday, July 16, 2018.
Davido's comment has also caught the eyes of some fans and followers of Kuami Eugene, and they have reacted with some of them asking him to return the towel.

Kegoka even advised Kuami Eugene to first wash the towel before returning it, probably for courtesy sake.

kegoka: "@davidoofficial @kuamieugene wash it first my young blood." Pokua saw the whole thing as funny.

mpokua: "@davidoofficial u funny." Chris also advised Kuami Eugene to return the towel because it is Davido's magic. chrisadamsgh:

"@davidoofficial@kuamieugene you for look sharp and return the towel.. you no know say the towel dey do lots of magic for OBO, see the energy you take climb the stage..

The towel is working... Hahahaaaa ." Dadayaw also laughed off at why Davido would make such a comment on social media. dadayaw_gh: "@davidoofficial issa savage ??...I mean how?????."
Tolu believes Kuami Eugene was only trying to copy Davido toluskiii: "@davidoofficial the boy is copying you."




Earlier this year, YEN.com.gh reported the news of Kuami Eugene being mocked for allegedly borrowing a blazer belonging to his label maker and friend, Kidi.

He was also accused of wearing a faded shirt to an event in Accra. But Kuami refuted all the allegation and accusation, stressing that if he has been able to buy a car, he could also buy his own clothes.