Entertainment Thu, 27 Jul 2017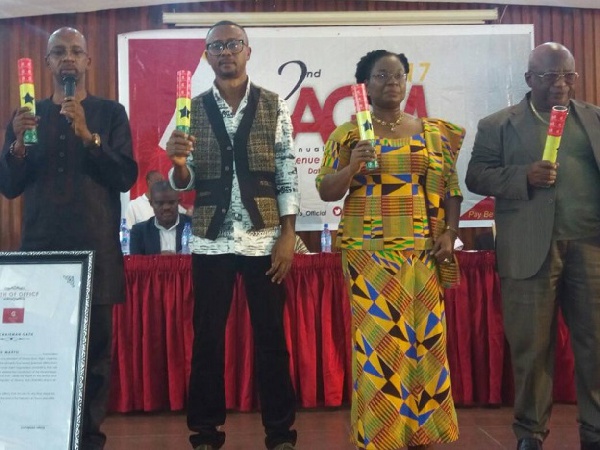 The Board Chairman of Ghana Music Rights Organization (GHAMRO), Rex Owusu Marfo aka Rex Omar and twelve (12) other executives have been officially sworn into office for the next four years.
A senior State Attorney, Dorothy Habadah representing the Attorney General presided over the swearing in ceremony during the 2nd Annual General Meeting of GHAMRO.

Some of the Board members that were sworn in include Ahmed Banda, first vice chairman, Mrs. Diana Hopeson, second vice chairperson, Nana Tuffour, Tic Tac, Augustina Addison, Bice Osei Kuffour, Oheneba Kissi and Bessa Simons representing Composers on the board.

Mr. Benjamin Mensah (Big Ben), Ernest Akwasi Anim, Seth Kwaku Amponsah and Rev Francis Boahen represents Publishers on the board.

Thousands of musicians across the country have assembled at the Great Hall of Kwame Nkrumah University of Science and Technology (KNUST) to participate in the 2nd AGM of the Association.

Rex Omar in his acceptance speech thanked the members for voting the new executives into office. He said the certificate of Approval for Collective Management Organization for (GHAMRO) has been approved by the Attorney General and Minister of Justice, Hon. Gloria Akufo.
He promised the musicians that the next four years of their tenure in the officer will see an improvement stakeholders royalties. He also called for a good welfare for the musicians and hopefully, a private insurer and GHAMRO will increase the money paid when a member passed away

'We have taken the telcos to court and we cannot continue to sing for multinationals to take us for granted", he added.

He promised the musicians that the new GHAMRO will distribute royalties twice in this year and the first will be by the middle of August. He also added that they will establish savings and loans for musicians before their four-year term ends.

GHAMRO established under Copyright Act 690 of 2005and regulated by Legislative Instrument 1962 of 2010, is the only organization mandated by the Attorney General and Ministry of Justice to license, collect and distribute royalties on behalf of music right holders in Ghana.

They also license and collects royalties when music is played and performed. GHAMRO also licenses and collects royalties when music is reproduced.