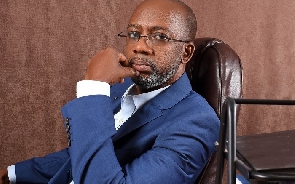 Seasoned Ghanaian singer, Rex Omar has refused to honour his promise that he will clap for the New Patriotic Party (NPP) if Vice President Dr. Mahamudu Bawumia wins the presidential primaries.
Rex Omar who downplayed Dr. Bawumia's chances of winning the primaries, said the outcome of the elections wasn't genuine enough to honour his earlier promise.

He said in an interview with Amansan Krakye "When you observe the NPP elections you'd realize it wasn't genuine, I mean the first one that about 900 people took part in.

"We have on record that some people took 100K and 50K among the 900 people so you just do your calculations and it's the nation's money used in influencing the votes.
"The second part of the NPP election which had over 200,000 voters, just look at Ken Agyapong's percentage as compared to the one who had state machinery paying money to voters.

He opined on Property FM "So if the NPP elections were genuinely done I don't think Bawumia would have won so I won't clap for him like I promised earlier".