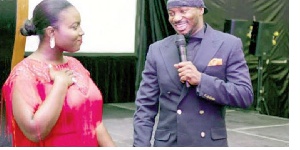 Ria Money Transfer (Ria) celebrated 30 years of business this year with a dinner gala dubbed 'Ria Money Transfer Bank Partner Dinner & Awards Event'.
This was to show appreciation to its partners and celebrate with banks in Ghana who have partnered them over the past nine years of operations in Ghana.

Award-winning singer Irene Logan and comedian Hogan entertained audience as they wined and dined on the memorable evening.

Speaking at the event, Robert Kotei, Operations Director for Ria in Africa, said, "Our business to Ghana is a fast growing giant, one of the fastest growing in Africa, especially in the last two years. Thanks to our cherished bank partners that complement our service by offering our customers a wonderful experience, which is why we are here to honour you all today."

Mr Kotei added, "Today, Ria is the most progressive money transfer company in the world, offering service excellence and the most competitive and reliable remittance payment services to its customers."
At the event, Ria gave special awards to outstanding performing banks and staff. Out of 24 banks in Ghana, nine of them received various awards, with the overall bank of the year 2017 award going to GCB Bank Limited and uniBank and Ecobank picked the first and second runner-up respectively.

Special recognition was also given to frontline associates (bank tellers) for their key role played in the money transfer value chain.

From a storefront in New York in 1987, the company had grown to become the third largest money transfer business in the world. Currently operating in 146 countries in the world (35 in Africa), Ria has expanded rapidly in Ghana over the last four years by signing on 21 banks, bringing its number of bank partners to 24 and covering over 2,000 locations in Ghana.