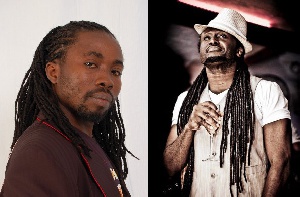 Fri, 15 Nov 2013 Source: George Clifford Owusu, Daily Guide
This year's edition of the much awaited musical concert dubbed 'Back In The Day', which is scheduled to take place at the Accra International Conference Centre on December 6, promises series of musical performances by seasoned music icons including US-based group, Naughty By Nature.
Viewed as the concert which brings the best of talents, both internationally and locally to Accra for an unforgettable night, 'Back In The Day' concert, from its record, promises a night of fun, entertainment and vivacity.

Being the first time in Ghana, Naughty by Nature, according to the organizers, has promised to rock Ghana with its brand of hip-hop music.

Blessed with an incomparably smooth voice, excellent writing and production skills, as well as uncanny stagecraft and crowd pleasing dance ability, members of Naughty by Nature are poised to dazzle Ghana music fans come December 6.

Setting the pace for the performances will, however, be some of the very best from the crop of Ghanaian artistes including the old face of Ghanaian hiplife music icon, Reggie Rockstone, Obrafour, T-Blaze among others.
With a slew of awards and chart-topping hits, these artistes have been carefully selected to rock the stage. One will wonder if the Conference Centre will be able to handle the enormity of this event, considering the long list of 'giant' acts billed to rock the concert.

The Chief Executive Officer of Empire Entertainment, Nathaniel Kwabena Adisi, aka Bola Ray, in an interview, promised that the event would not just be a night of glitz and glamour but something that has never happened in Ghana's entertainment scene before.

He told BEATWAVES that the rich skill of members of Naughty by Nature, coupled with their hit songs would be experienced during the show, adding that Ghanaians should come and experience an extraordinary musical performance by Naughty By Nature, Reggie Rockstone, Obrafour, T-Blaze and others on Friday December 6.

Bola Ray said all the artistes billed to perform at the show would treat fans to unforgettable and splendid performances, saying patrons who would throng the Accra International Conference Centre would be thrilled beyond their expectation.
Source: George Clifford Owusu, Daily Guide