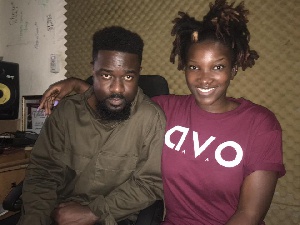 Ebony's demise has caused havoc in the entertainment industry judging from the master plan of some musicians Zionfelix.net has sighted.
Many musicians have canceled the release dates for their songs and press conferences all in honour of the 'Maame Hwe' songstress who died on February 8 on her way from Sunyani after a family visit. Ebony is no more but before her death, she had featured on songs of many musicians.

One of such musicians who collaborated with the Ruff Town Records/Midas Touch signee is Sarkodie. Zionfelix.net after spotting a picture of the two musicians in the studio heard many questioning when their collaborated song will be released but no answer was given before the death of the songstress. Now Sarkodie is contemplating whether to trash the song or still release it even though Ebony is late.

Zylofon FM morning show host, Sammy Flex who visited the rapper at his studio on Thursday, February 15 disclosed on Friday morning that Obidi is in a confused state. According to him, Sarkodie told him that he does not know what to do with the song – whether to release or wreck it.

Samuel Atuobi Baah who doubles as the Head of Communication for Zylofon Media opined that the song by Sarkodie and Ebony is a nice piece but the BET award-winner is still thinking about what to do with it.

Ebony died at the Bechem Government Hospital after the vehicle she was travelling in was involved in an accident.
Her friend, Franky Kuri, and a Military Man, Atsu Vondee, who is said to be her bodyguard on board a Jeep from Sunyani also died in the head-on collision with a VIP bus heading towards Sunyani from Kumasi.

Ebony's one-week commemoration slated for Sunday, February 18, 2018.