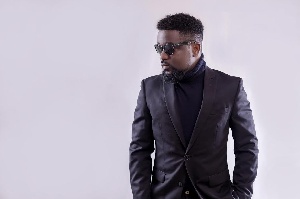 We reported yesterday that Music Producer Mark Okraku Mantey had threatened to sue rapper Sarkodie for sampling Daasebre Gyamena's song 'Kokooko' which he produced without permission.
Neither Sarkodie nor his management have responded to the threat.

Early Wednesday morning, the 'Take It Back' rapper posted a video to Micro blogging site Twitter of him in a vehicle with a friend listening to LIVE 91.9 FM. He seem not bothered at all by the threat of a law suit.

Sarkodie is known to adopt a 'Ray Charles' attitude to reports about him in the media till it dies out, time would tell if it will be different this time.

Watch Sarkodie below.


Early morn pic.twitter.com/hCwwReONCM

— TheHighest (@sarkodie) January 11, 2017
Read our earlier story below.
Music Producer Mark Okraku Mantey has explained the reasons behind his threat to sue rapper Sarkodie for sampling Daasebre Dyamena's song Kokooko which he produced.

Okraku-Mantey says he wants to seek redress in court to get the right thing done and not as a result of jealousy as some people believe.

"Under normal circumstance if he had called me to say that he is doing Kokooko remake as a tribute to Daasebre, I would have just said 'go ahead'. I want to hear it sound good or even better. The most important part of this whole thing is how it sounds funny. I didn't hear anything from him only to see Jon Germain send me a link and when I opened it, I heard my song playing so after hearing my song play, I said at least show me some respect," said Okraku-Mantey when he appeared as a panellist on Pundits on GhOneTV Tuesday evening.

"I am the sampling master in this country so we know how this game plays. I know when the person does not have access to me or I don't have access to the person, it is a different ball game but when the person is just next door, you know the person can chase you so we shouldn't take this case for granted."

The Slip Music owner adds the response from Sarkodie and his team will decide whether he will head to the court for a decision to be taken.

"I want to see the steps he will make. If he doesn't make any steps then it gives me a clue that he doesn't want to respect the industry then we will use him to set example for the younger ones to learn from it. All these court cases are precedents so if we set one for others to learn from it, there is nothing wrong."