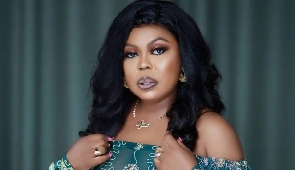 Afia Schwarzenegger has lambasted the MP for Ada Constituency, Comfort Doyoe Cudjoe-Ghansah, for advising prospective first ladies to desist from wearing heavy make up just like the late former First Lady, Theresa Kufuor did.
Earlier during the MP's contribution to a parliamentary statement commemorating the late Theresa Kufuor, Cudjoe-Ghansah, Mrs. Cudjoe-Ghansah, praised the former First Lady for her restrained use of makeup in public appearances during her husband's presidency, which lasted from 2001 to 2009.

She urged prospective first ladies to adopt the modest lifestyle of the late former First Lady and avoid spending huge sums of money on makeup.

Her statements, however, did not sit well with some netizens who have alleged that it was an indirect jab to Mrs. Samira Bawumia, the wife of presidential aspirant, Dr. Mahamudu Bawumia.

Afia Schwarzenegger, who shares in the same narrative took to Instagram to slam the MP.

Afia, an avid campaigner of Dr. Bawumia, defended her candidate while questioning the MP's sense of judgment.

Labelling her statements as foolish, she said the MP has no right to criticize the act of wearing make-up when she is rocking a dyed hair.
"it's such a foolish talk coming from a member of Parliament. Why did she dye her hair, if I may ask..is she not wearing makeup herself ?, nkwasia keka kwa!!!! Do people understand the meaning of makeup?? Do you think it's only lipstick n Lashes ...Mtchewwwww.

"Anyway, thank you for admitting that Samira Bawumia @sbawumia is an incoming 1st lady!!!!! You see your Jon thoughts. Indeed, common sense is not common, and education doesn't make one intelligent!!!" she established.

Watch the video below:


Click here to follow the GhanaWeb Entertainment WhatsApp channel
EB/NOQ