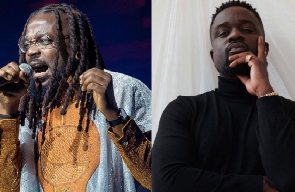 Social media, particularly Twitter, has been buzzing with Ghanaian musicians Samini and Sarkodie topping trends successively after the former leveled some accusations against the latter.
Comments from a displeased Samini whiles detailing some 'unfair' encounters with Sarkodie have since stirred massive reactions from scores of netizens including some celebrities.

The likes of Shatta Wale, Eno Barony, Archipalago, Kwadwo Sheldon, Sarkodie's wife Tracy Sarkcess, and others have responded to viral tweets and videos of Samini's outbursts and Sarkodie's apology which erupted online.

Earlier in a couple of rants on Twitter and an extended version in a radio interview, the Reggae/Dancehall legend called out Sarkodie over what he described as the incessant habit of deliberately ignoring business deals and phone calls from him.

Samini on Twitter on January 23, 2023, expressed concern over Sarkodie's snub over a feature.

"Not sure I'll need a verse from sark but if he ever does need one, I'm not interested and that's facts. He knows this himself...)y3 Alo sometimes and I don't play that. Yes or no be problem for am so e go slow you and your project go dull …, he did it to me on burning EP," He wrote in response to a fan during a 'Question and Answer' session on Twitter.

He hit harder at Sarkodie during a phone-in interview with Andy Dosty where the former was also present.
"This whole thing started on Twitter last night when I asked fans to ask me questions, they would want me to answer. One of them came with the question about whether or not I will work again with Sark. So I said point blank that I don't think I'll need a verse from Sark and if he ever does need one, I'm not going to ever do it. I know the person is a Sark and a Samini fan and want to see us collaborate. I have a few instances where Sark has disrespected me but I didn't bring it in public. But how Sark fans have risen on Twitter and disrespecting me is crazy. At 41, I don't have to let anyone feel special in their corner. When Sark sent love rocks, I did it under 24 hours and sent it to him.

"Another time, he sent another when I was in South Africa, I did it and sent him the verse. When he sends me a WhatsApp message, it doesn't takes me more than five minutes to respond. Because I did more than one features for him and he decided to put one out, I felt he could also return a favour so I hit him up over a song. I sent him three songs and he chose one. I told him it's the last single on the EP. We spoke in April and I was supposed to release the song in May. that was the last time I heard from him and anytime I send him a message, there's a blue tick. Sarkodie did not try for me. He did not try for me and he knows it. Sark you are my small boy. Sark was one one the boys that said in his raps that he wants to blow up and become like Samini. Ask him. My guy, don't play," he fumed.

Samini's comments stirred controversy on social media with a section of fans describing him as feeling entitled.

Sarkodie's response, however, shot the reactions up further.

"I'm saying sorry not because everything you are saying is true. I treat things differently from how people will treat things. I wouldn't call it pain because I don't care. Everybody has something happening to them so. There are thousands of people out there who will also say I don't hesitate to work with them. I told Bullgod. Sometimes you listen to a song and you don't hear yourself in it so you're trying so hard to find time to do it. I'm saying sorry for how he feels. If he says he feel like that then sorry," Sarkodie said.

Read the tweets below:
Your flowers ???????? @sarkodie ???? #GodsLight

— Tracy Owusu-Addo (@TracySarkcess) January 24, 2023
Always record a full song even if you wish to collaborate with another artist.

When they refuse to do it, you drop it solo.

Collaboration is good cus together we shine brighter

But a Star don't need light from another Star to be seen. ????????

— #DontJudgeMe (@eno_barony) January 24, 2023
I like Ghana ooo

Everyday there is beef ???? ????????????

Industry boys conference ????????????

— SHATTA WALE (@shattawalegh) January 24, 2023
Are they still fighting ????????????

Just closed from office ????

Give me filla ????????????

— SHATTA WALE (@shattawalegh) January 24, 2023
Sarkodie wanting to be politically correct with issues about him will never sit well with me. Samini came at you firing salvos and calling you out on specific issues! Why are you being evasive with your replies? Bro!

— Kwadwo Sheldon (@kwadwosheldon) January 24, 2023
Did you bluetick him or nah? Yes or No? This one too be hard?

— Kwadwo Sheldon (@kwadwosheldon) January 24, 2023
Samini and Sarkodie.. what's going on

— Palago Mufasa (@Archipalago) January 24, 2023
I was telling my guy that the day I would post screen shots from 2011 till date on how ppl sound via text when they need you vrs how they sound on radio..Ghana go explode ????????????????????..I pray I don't have a crazy episode for that to happen to the boys and girls..

— Goget'em (@iamedem) January 24, 2023
There are Some Radio personalities in Ghana who would know the truth behind curtains but would be too scared to voice out because of kakra..Ayekoooo

— Goget'em (@iamedem) January 24, 2023
EB/BB