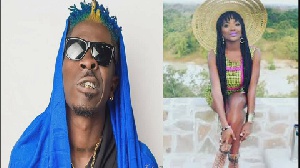 Shatta Wale may yet be in the news again – but this time for something more than a peep of a threesome blowjob on his Snapchat.
The award-winning dancehall artist agreed to "do something" with songstress Efya when she relished in the idea on twitter in a tweet.

A collaboration between the two artistes would be nothing short of a pleasant surprise characterized by a mixture of their unique styles blended on a beat to serve their starving fans.

Reactions from both camps on twitter suggested that the idea is not one they both haven't considered with Efya tweeting that "Well that is something I am looking forward to very soon," mentioning Shatta Wale and ending with a friendly wink emoji.

In response, the self -dancehall king subtweeted the songstress with a positive "mek we do something soon" with two blazing fire emoji.
Fans can only assume that this is the first step towards a studio session that will birth the magic on beat everybody is anticipating.

Both artistes have amassed success in their separate genres with Efya accruing close to and Shatta Wale releasing over fifty songs every year and freestyling his way through almost every studio session.


mek we do something soon???????????? https://t.co/QWNoVHzaNQ

— SHATTA WALE (@shattawalegh) July 8, 2018