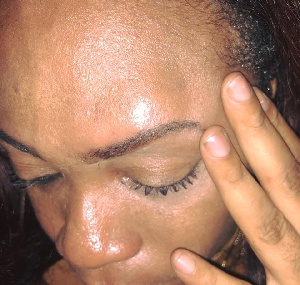 Queen of the Shatta movement empire and the King, Shatta Wale seem to be going through some difficult times in their relationship.
The two have taken to social media to express their pain and the information they have put out there is a clear indication that they are going through some great challenge.

Shatta Wale in his post alleged that he was been chased by Mitchy with a knife. He indicated that Shatta Mitchy slapped him in front of her mother.

He noted that anytime there is a problem, Shatta Mitchy will feign an accident by cutting herself with a blade, break bottles just to paint him black but his God he serves will not disgrace him through her.

Shatta Mitchy responding to claims by Shatta Wale indicated that he is a hypocrite who will hurt her and come on social media to seek public sympathy.

She said "The world is full of hypocrites. They hurt u and later come seek internet sympathy. The world knows what a good woman looks like. Unfortunately, & ungratefully, you don't. Thanks for the bump on my head".

Full post by Shatta Wale(unedited):
One of my biggest mistake in Life Is believing people will show me the same love I have shown them..You always cut yourself either with blade or burn urself or sometimes break bottles and glasses to still hurt yourself for the outside world to believe it cuz of the way of life I live in the industry.

So people will say and I quote :Abi shatta dierrr the way Ibe basabasa he go fit do am " my God I worship does not sleep for people like you to tarnish his image...He has never made me lost a battle..

The empire is my witness on how I have kept this in me for so long..Woman kakai eeeeiii abeg come back again with better lies CUZ TODAY YOU SLAPPED ME INFRONT OF YOUR OWN MOTHER HOLDING A KNIFE TOO... What a wow !!!! Clap for yourself ..Julio bone etc are my witnesses ..Good night Ghana".