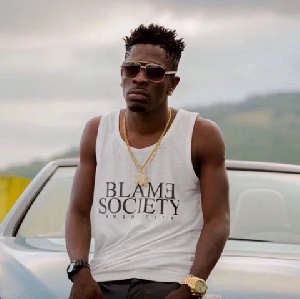 Dancehall artiste., Shatta Wale has lashed out at Bullet, former Manager of Ebony over reports that he (Wale) wants to be paid before performing at a tribute concert.
On late Friday afternoon, Wale questioned the reports via a post on Facebook writing: "How can I charge to go and perform at a funeral ..where is the happiness and enjoyment at the particular place and time ..Bullet if you are the one spreading rumors like this which I kno u can ….then u fool waaa this Friday..This is not the first time I am hearing this form your camp .. Zylofon is my pride if you kno like go burn the sea .. #champioooon #Zylofon #bossbaker #SM #Storm#SolashEnt #Asuoden #LBE

Z 4 #ZYLOFON #ZYLOFONMEDIA #ZYLOFONMUSIC #ZYLOFONSHATTAS"

The 'Taking Over' artiste travelled to America today to shoot music video off his THE REIGN album. It will be his first after signing a 3-year deal with Zylofon Music.

A tribute and vigil concert will be held in Ebony's honour at the La Trade Fair Centre in Accra on March 23.

Some of Ghana's top artistes are expected to perform at the concert. It will be a prelude to the funeral service of the late Ghanaian artiste.
The burial will be held on Saturday, March 28, 2018. Prior to that, the funeral service will be held at the forecourt of the State House in Accra on the same day from 5am.

The funeral service will be officiated by Dr. Lawrence Tetteh, leader of UK-based World Miracle Outreach.

Ebony died after she was involved in a gory accident on the Kumasi–Sunyani road on February 8, 2018 when she was returning to Accra from Sunyani.

Her friend, Franky Kuri, and a Military Man, Atsu Vondee, who is said to be her bodyguard on board a Jeep from Sunyani also died in the head-on collision with a VIP bus heading towards Sunyani from Kumasi.