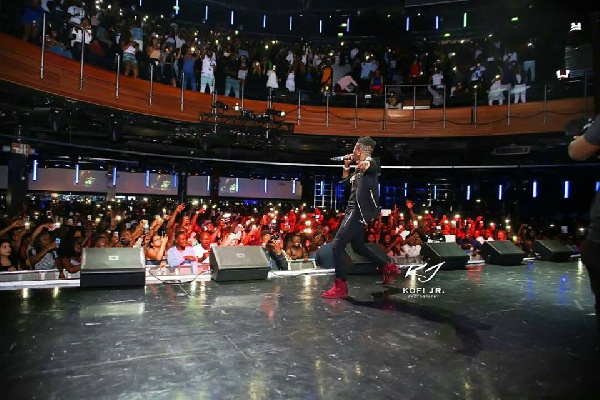 Friday night will go down in the lives of entertainment lovers in London as one of the nights they had the biggest fun in the Indigo O2 Arena with African Dancehall Champion – Shatta Wale.
The "Obodobidi" hit maker spent close to an hour on stage according to live Facebook feed that vibesin5.com monitored and throughout his performance, patrons couldn't pin their butts on their seats for a second.

The whole auditorium was lit as Shatta dropped hits-after-hits-after-hits. One would think he was high on some substance but trust the King to give you massive energy-filled performance that will keep you yearning for more.

A few minutes into his performance, Duke of D2 fame jumped on stage to give a brother some support. They both performed "Fever" which was well received by the audience, then came the man who rules the Afro beats scene in the UK – Fuse ODG. His presence obviously brought some extra life into the auditorium with the ladies screaming his name on top of their voices.

As Shatta Wale performed to over 3000 live audiences packed into the auditorium, 2,300 others were watching live on Facebook on the Shatta Movement page making the Shatta show readily available to over 5000 eye balls all over the world.

One thing that is worth noticing though is the arrangement of his playlist and the input of his DJ on the night – DJ Vyrusky. He started off with his "less" popular hits to his monster hits. He had tracks which he spent extra energy on and also had ones he dropped just to keep the already charged atmosphere, super energized.
Even as a "lone ranger", Shatta Wale was able to engage his audience in a very interesting way. His energy on stage was enough to keep one's eyeballs busy. He never got boring on stage as he introduced some comic body movements and comments just to draw some good laughter from his wild fans.

Akwaaba UK, organizers of the show, got their money's worth and would not hesitate to bring him back to the UK for a show any day. And oh…Bola Ray was there to do his usual thing – Show you some good money.

Watch video below: