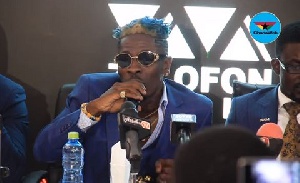 It was all smiles not long ago when Shatta Wale met president Akufo-Addo at the Flagstaff House. The artiste, who prides himself as Ghana's dancehall king, went there on an open invitation extended to him by the head of state on the occasion of his (Shatta's) birthday.
After the visit, a number of Ghanaians shared their thoughts on the event with some describing it as a good sign for Ghana's music industry while some believe the invite was not necessary.

Regardless of the backlashes by the public including some industry personalities, it's obvious Shatta Wale's experience at Flagstaff House is still fresh in his heart as he's looking forward to getting an invitation from White House by Donald Trump.

The Zylofon Music signed act took to twitter to laud Donald Trump on his recent rants to define the African. As a reminder, the American president not long ago described countries in Africa, Haiti, El Salvador as 'shithole'. With this, most people around the globe excluding Shatta Wale vehemently criticized Donald Trump labeling his assertion as derogatory. Shatta Wale tweeted:
"I want to ask @realDonaldTrump how he was able to study the mentality of an African mans mind ..am coming to visit you soon …????????????????????????????????????????????????God bless you ..GM"

Truth be told, Shatta Wale will be one of the greatest personalities on earth if he's being invited by Donald Trump. But then, do you think Shatta's ambition will be fruitful? Shredded your thoughts with us.


I want to ask @realDonaldTrump how he was able to study the mentality of an African mans mind ..am coming to visit you soon ...????????????????????????????????????????????????God bless you ..GM

— SHATTA WALE (@shattawalegh) February 26, 2018