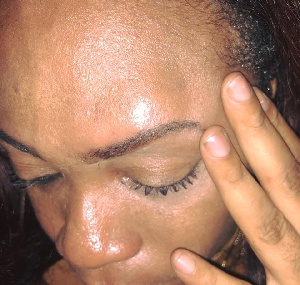 Empress of the Shatta Movement Empire, Shatta Mitchy has described her "lover" as a hypocrite.
According to her, Shatta Wale always hurt her and when he does, he comes to sit on social media for public sympathy.

She indicated that Shatta Wale does not know her worth but was quick to add that the world knows she is a good woman.

Shatta Mitchy who made this revelation in a photo post on Facebook said "The world is full of hypocrites. They hurt u and later come seek internet sympathy. The world knows what a good woman looks like. Unfortunately, & ungratefully, you don't. Thanks for the bump on my head".

Shatta Wale has since in a post condemned Shatta Mitchy indicating that she slapped him and attacked him with a knife and therefore he cannot continue a relationship with a woman who wants to take his life.
"One of my biggest mistake in Life Is believing people will show me the same love I have shown them..You always cut yourself either with blade or burn urself or sometimes break bottles and glasses to still hurt yourself for the outside world to believe it cuz of the way of life I live in the industry.So people will say and I quote:Abi shatta dierrr the way Ibe basabasa he go fit do am " my God I worship does not sleep for people like you to tarnish his image…He has never made me lost a battle..The empire is my witness on how I have kept this in me for so long..Woman kakai eeeeiii abeg come back again with better lies CUZ TODAY YOU SLAPPED ME INFRONT OF YOUR OWN MOTHER HOLDING A KNIFE TOO… What a wow !!!! Clap for yourself ..Julio bone etc are my witnesses ..Good night Ghana".