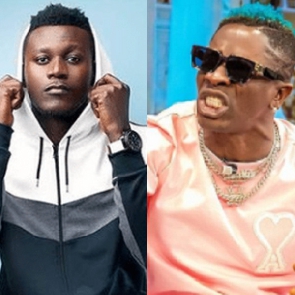 Keche Joshua, one-half of the Ghanaian music duo Keche, has spoken highly of fellow musician Shatta Wale in a recent interview.
In an Onua FM interview, Keche Joshua praised Shatta Wale for his humility despite his sometimes controversial behaviour on social media.

"Shatta is one of the best people in the industry...He is very, very humble. Too humble, oh. He is aggressive, but that is not his personality," he said.

Keche Joshua went on to say that he has gotten to know Shatta Wale personally and can attest to his character.

"He is one person you can trust...I have gotten closer to him, and I know the kind of person he is. That's why everywhere I go, it's 'big ups, Wale.' I have gotten closer to him like the others," he added.

He also revealed that he is on good terms with other musicians such as Stonebwoy, Sarkodie, and Medikal, but he is closest to Shatta Wale.
"I am closer to Wale more," Keche Andrew said.

The musician also recounted a moment when Shatta Wale showed his support for Keche's music.

"I was shocked and thought that it's never what you think. He is a different breed. No wonder he sees the big things you do and says big ups Keche," he said.

Joshua's comments offer a different perspective on Shatta Wale, who is often seen as a controversial figure in the music industry.

Despite his public persona, Keche Joshua has gotten to know Shatta Wale on a personal level and speaks highly of his character.
It just goes to show that people are not always what they seem on social media, and it's important to get to know someone personally before passing judgment.

Watch the latest episode of Talkertainment below:



Watch the latest episode of Nkommo Wo Ho below:




Watch the latest episode of E-Forum



ADA/OGB