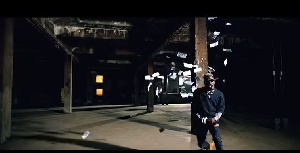 Ghana's 'Dancehall King' has released another expensive music video for his single 'Amount' which is believed to be coming from his yet-to-be released REIGN album set to hit the market in October.
'Amount' was produced by M.O.G Beatz.

Dancehall/Reggae artiste who finds luck in other genres, Shatta Wale has once again employed the services of Nigerian director Sesan.

The expensive video which was premiered on Zylofon TV appears to be an 'excerpt' from the video of Davido and Nasty C's 'Coolest Kid in Africa'.

Shot at the same location in South Africa, and by same director SESAN, 'Amount' repeats a portion of 'Coolest Kid in Africa' music video.
Was this deliberate on the side of Sesan or a mere coincident? Is Sesan lost of concepts? Or was Shatta Wale on a very low budget that Sesan had no time to come up with a concept? Watch 'Coolest Kid in Africa'