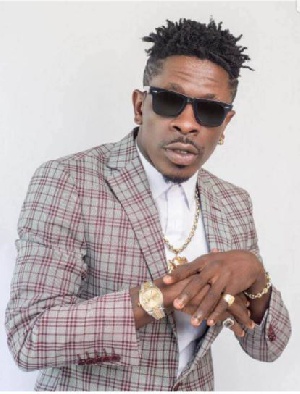 Tue, 17 Oct 2017 Source: Kay Agbenyega
Charles Nii Armah Mensah, known in the Music Industry in Ghana and across the globe as Shatta Wale has had his real identity by nature revealed by his father who is affectionately called Shatta Capo to the general public and especially the players and stakeholders in the music industry.
According to Shatta Capo, his decision to break his silence for the revelation about his son's natural identity and ability which by the grace of the Almighty God has shot him to this height in the music industry is to first and foremost send his entire families best wishes to Shatta Wale a.k.a Charles Nii Armah Mensah on the occasion of his birthday which falls on Tuesday the 17th of October, 2017.

"Secondly, this occasion of Shatta's birthday also affords me the perfect opportunity to suggest to Shatta's characters assassins and critics in the music industry and elsewhere to read Judges Chapter 13 vrs 2-5 and 2nd Corinthians Chapter 12 vrs 7 to comprehend why there have been so much attacks on his brand in the industry. I must say with all conviction that the revelations about Shatta in biblical parlance simply means " Don't Touch My Anointed', else the more attacks the better for him".

Shatta Wale at age 5

Young Shatta Wale ( Jnr,) sung to us as parents and his siblings like the perfect child and quite often drew visitors and family members galore to our residence who admired the young Shatta especially when there was a Birthday Party for him and any of his siblings.
At five ( 5) years of age Jnr was strong-willed and moody and has an opinion on everything. As parents we never even thought of Force-feeding him because it was time wasting for us as well as himself.

At that age it was very easy for Jnr to single out a member of the family to befriend. Young Shatta often did that with the intention to have influence on his side should his Dad or Granny thought of not letting him have that new toys, football kit or any musical instrument he had seen.

Young Shatta at ten (10)

Jnr was very alert as a kid at this age with quick wit and was musical by nature, so as parents we were not surprised when at school he joined the school entertainment group where he excelled during entertainment periods and more often in the arts. At age ten, Jnr does not like to be told what to do, so his school report was frequently off on a tangent. He was the Class Clowns and had plenty of friends.
Young Shatta at fifteen (15)

The fifteen-year-old Wale enjoys hard work at this stage and was musically inclined and music became his passion and therefore started singing while he was at Winneba Secondary School in the Central Region. Young Shatta between age 15 and 17 had his own way of doing things that was highly artistic" even the way he wore his school uniform those days made him appear different from his close friends and colleagues which depicted the style of a musician.

Young Shatta Wale was not afraid at that stage to be different in his musical tastes and so as a frequent traveller outside the boarders of Ghana to the UK and USA, I often bought him kids musical gadgets to play with.

He was not the best eater while growing up, so as parents we made sure his lunch box was not stuffed with so many items before he and his siblings were dropped off at school. Jnr, at that stage had a lot of admirers.
Shatta Wale at twenty (20) and beyond

This stage of Shatta's Life and natural identity and abilities will be revealed in Part Two of 'Shatta Wale's beginning revealed' by Shatta Capo.

On my own behalf and on behalf of all the fans of Shatta Movement Empire in Ghana and across the globe and the entire family" I wish Shatta Wale "Charles Nii Armah Mensah A Happy Birthday.

The entire Family is PROUD OF YOU.
Long Live Shatta Wale

Long Live Shatta Movement Empire

SIGNED

SHATTA CAPO
Source: Kay Agbenyega