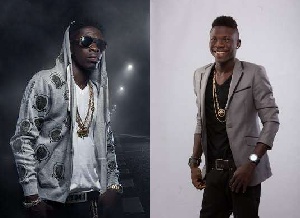 Self-styled dancehall king Charles Nii Armah who is popularly known as Shatta Wale has thrown jabs challenging Stonebwoy who pose to be his greatest rival in the dancehall fraternity.
The "People dey" crooner who is known for trolling he's compeers through his achievements and awards took to twitter on the 17th of July 2017 around 7pm and tweeted:

"First Ghanaian Reggae Dancehall artiste to Be granted audience @OnstageTV in Jamaica.. and African artiste to get on @CP24 in Canada #sayit"LG

The Ayoo hitmaker in a tweet which is purported to be a reply bare naked the recent news buzz which surrounds the 2015 BET Best intl African act winner thus he's not able to make any hit song in the first half of the year. This was his tweet
"Yes u can be da first but you are now the last when it comes to hit songs..you no deh shy".

The two rivals are known for indirectly throwing jabs at each other but will bluntly deny the fact in interviews. As to whether Stonebwoy will reply this directly or indirectly. We will still dance to any drum they beat.