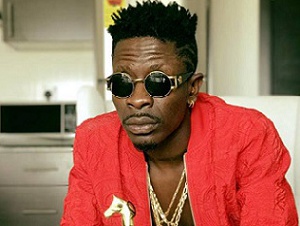 African Dancehall King Shatta Wale is ready to host a Musician Workshop program with the aim of exposing ghanaian musicians to the secrete of making hit songs.
Indeed the Ghanaian music industry is choked and to have a hitsong is not on silver platter but the "Reign Album" hitmaker has revealed his intention of teaching musicians his way of making hit songs.

On her facebook page, the "Island" hitsong performer has inked;

"All those musicians finding it difficult to get a hit song in Ghana and make money,please I am telling you today that there is a WAY..

And unless I tell you ,but to tell you ,you need to come register and join us in a workshop program I about to unveil ...
If you are a musician and you agree with me .. Inbox Benisah Saviour and Shadrack Amonoo Crabe for details !!! Email me : shattamovement@yahoo.com

Thank you and may God bless you !!!"

Charles Nii Armah Mensah known Professionally as Shatta Wale is such a vibrant and relevant music maker in Ghana. He is among the few musicians in Africa who do release hitsongs each and every year. His 2019 album "Reign" within a week of its release spotted #6 on Billboard World Album chart.

He is the most decorated African Dancehall artist and with a huge fanbase across the world.