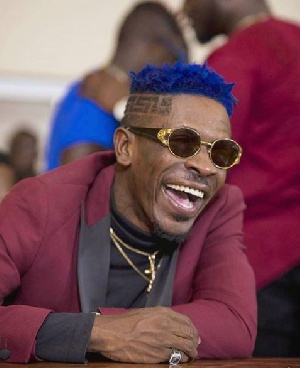 Multiple award-winning dancehall artiste and latest Zylofon Media signee, Shatta Wale, known in real life as Charles Nii Armah Mensah Jnr, expressed his intentions of seeing President Donald Trump in the White House.
The musician took to Twitter and posed a question to President of arguably the most powerful country on earth.

Shatta Wale quizzed, "I want to ask @realDonaldTrump how he was able to study the mentality of an African man's mind ...am coming to visit you soon ... God bless you ..GM."

Many people believe that Shatta Wale's inquisition is related to an earlier comment made by President Donald Trump.

While others including Heads of States in many African countries did not take kindly to the comment made by Trump, some people have asserted that Shatta Wale's post was in support of the 'derogatory' remark.

It is yet to be ascertained what necessitated the tweet made by the popular dancehall act and why he was curious to know how Donald Trump studied the mind of the African.
Shatta Wale also sent an indirect request to visit the White House with the post he put up on his official Twitter handle.

The 'Taking Over' hitmaker has been in the news for some time now over some prophecies that are believed to have been revealed concerning his life.

In reacting to the said prophecies, the outspoken musician threatened to burn down churches should the 'revelations' of the men of God fail to manifest in his life.

Both parents of the musician have also blasted the men of God who were wishing their son ill with their 'fake prophecies'.


I want to ask @realDonaldTrump how he was able to study the mentality of an African mans mind ..am coming to visit you soon ...????????????????????????????????????????????????God bless you ..GM

— SHATTA WALE (@shattawalegh) February 26, 2018