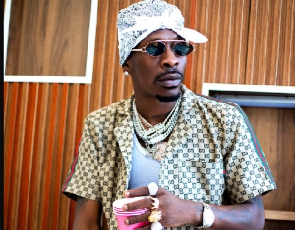 Dancehall Musician, Shatta Wale, has skyrocketed to the top trends on Twitter, following his comments on issues surrounding embattled Ghanaian socialite, Hajia4Reall, who is currently facing a trial in the US over a $ 2 million romance fraud case.
Shatta Wale was captured in excerpts of a Facebook live, furiously tackling critics who have named him as an accomplice in the case and netizens are reacting to his mannerisms and choice of words which according to them, exudes fear.

According to netizens, it would have been in the best interest of Shatta to have just been silent, rather than addressing the issue in that manner which seems implicating.

There is currently a wide perception that Hajia4Reall may not go down alone if she's found guilty, adding that she belongs to a wider network of syndicates in Ghana.

With regards to this, netizens believe that Shatta's rants came at the wrong time, particularly at a time when the FBI is keenly monitoring every move of some celebrities who have a close relationship with Hajia4Reall.
What is the FBI and the Ghana's Financial Intelligence Centre (IFC) saying?

Ghana's Financial Intelligence Centre (IFC), which is working in conjunction with INTERPOL and FBI on the case, established that all persons within the social and business network of the suspect are now persons of interest in the investigation.

Hajia4Reall is known to particularly have many associates in both entertainment and business circles in Ghana, and was an ambassador for some business brands, hence the interest in persons from this circle.

Background
Mona Faiz Montrage, popularly known as Hajia4Reall, appeared in Manhattan federal court on Monday, May 15, for her alleged involvement in a series of romance schemes targeting older people who lived alone.

She is set to be released on home detention to her aunt's New Jersey residence in the coming days on a $500,000 bond with GPS tracking via an ankle monitor, her lawyer and the prosecutor's office had confirmed.

Read the tweets below:


Hello @FBI, Ghanaian artiste, Shatta Wale, appears to have something to hide. His recent rant reveals his fears, kindly call him up for interrogation. pic.twitter.com/J7P3EukyKS

— Albert Nat Hyde (@BongoIdeas) June 1, 2023
Some Ghanaian Artistes travel with cocaine and Kotoka International Security is aware - Shatta Wale
pic.twitter.com/JEKnMa9Xh3

— Dr Sneaker Nyame???????????????? (@SneakerNyame_) May 31, 2023
What Ghana Artistes & Airport all come do for your rants inside erh Shatta Wale? But hey that's the Shatta Wale we know! His rants is always about selling out! Let's stop tagging FBI & all that though.

— iTunesGad (@drop_last) June 1, 2023
A staff from passion air blocked SHATTA WALE from getting his flight ticket. pic.twitter.com/TJmDGSf0nm

— SHATTA ???? BA ???? CONFIRM ???? (@kingshattaba) May 26, 2023
If Sarkodie could've acted the same as Shatta wale like Ghana Music industry could have been better now but Sark suro pic.twitter.com/JyqzXrg6HY

— Webkid_Afrika (@WebkidAfrika) June 1, 2023
Shatta wale is not happy about what is going in the F**'n country at all!! pic.twitter.com/4mrfuVJCK5

— VIGALORD????????❤️ (@VIGASTY1) June 1, 2023
EB/BB