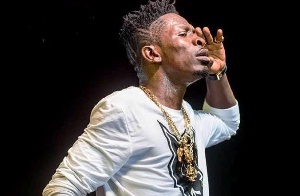 Reggae-Dancehall artiste and producer Charles Nii Armah Jnr. popularly known as Shatta Wale today in a Facebook live descended heavily on critics.
He was seen in the video preaching the word of God and he said that "people should give what belongs to caesar to caesar and what belongs to God to God".

According to him, no one can threaten him in his life as he came to the world to preach the Gospel through his music.

He proceeded to explain that he never insulted cripples in general but rather insulted Stonebwoy for mocking his big mouth.

What amazed everyone was that the 'Ayoo' hitmaker went ahead to quote from the bible and advised viewers to read.

He quoted Isaiah 32:6 to explain his point, "For fools speak folly, their hearts are bent on evil: They practice ungodliness and spread error concerning the LORD; the hungry they leave empty and from the thirsty they withhold water."

As usual the Shatta movement boss wouldn't do a live video without bragging as he mentioned the kind of people who are friends to him.
According to him the president of Ghana, ministers and even Mayweather are his friends.

Jokingly, he said many ladies with small lips love to kiss his "lizard lips" and that many ladies email and snap him just to see his lips.

He thanked everyone for watching him live on Facebook and listening to his message as well.

He advised viewers to appreciate themselves as a motivational message to them.

Watch the Video Below: