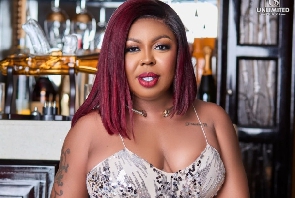 Popular Nigerian socialite, Afia Schwarzenegger, has slammed netizens questioning why she appears unperturbed about Hajia4Reall's scandal that has taken over social media.
In a TikTok live video, the controversial Ghanaian socialite was asked why her mood is lit up instead of keeping gloomy to solidarize with Hajia4Reall.

This question, however, attracted a wild response from Afia Schwarzenegger.

The comedienne lambasted the netizen while stating that her life shouldn't be put at a standstill because of Hajia4Reall's plight.

"Why I'm I jubilating? So, I should cry because Mona is in jail? I should go and kill my mother? Nobody should be happy in this country again because Mona is in jail? I should go and die because she has been arrested?

Afia expressed that she has her own problems to brood over and that each person should handle their own burdens.

"Fool! Do you know what I am also going through? Because someone has got a court case, I shouldn't be happy? So, should I go and sleep by her inside the prison in New York? Should I cry? Did I arrest her?"
Background

Popular Ghanaian socialite, Mona Faiz Montage, widely known as Hajia4Reall, had been extradited to the United States from the United Kingdom over alleged involvement in a $2 million romance scam targeting older, single Americans.

According to US federal prosecutors, the 30-year-old musician cum businesswoman appeared in Manhattan federal court on Monday, May 15 for her alleged involvement in a series of romance schemes.

The news has since flooded social media, topping Twitter trends amidst massive reactions from netizens online.

Hajia's jail requirements

'Hajia4Reall' has pleaded not guilty to the charges levelled against her.
She is set to be released on home detention to her aunt's New Jersey residence in the coming days on a $500,000 bond with GPS tracking via an ankle monitor, her lawyer, and the prosecutor's office have confirmed.

Watch the video below:


EB/OGB